Defined, Tuned, But Never Played
By Stephanie Sanchez
About 16 years ago, while in College of Art Esmeralda in Mexico City, Rafael Navarro G. recalls that all of a sudden he decided to move to Phoenix to temporarily work and take back some extra money with him.
He hasn't left since because he loves the city. Since 1993, his "guitar" art work has been displayed every First Fridays.
Navarro's passion to create art came to him since he was little in which he would play with clay for hours and hours until he created exactly what he wanted.
Mostly all of his artowrk contains the meaning of life. Some of his works include "Lyric" which he said to represent the womb of a woman with child.
He says he believes that all creation is so beautiful just like music is. "Sandia Bass" was simply created because he liked the watermelon colors.
All of his guitar artwork is carefully detailed. One would think that he knows how to play the acoustic guitar because of how finely he mastered every detail, but he says he doesn't.
"I like the sound it makes and I have tried many times to learn how to play the guitar. I have even took classes at the Phoenix College but in beginner's class they always put us to play the same song over and over again with others and i got tired of it.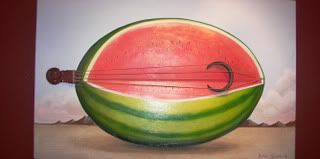 So now I just pratice by myself." said Navarro in spanish. He gets his inspiration from every type of music, anything that contains the sound of acoustic guitar.
Not only does Navarro has a passion for creating guitar art, in 1988, he also achieved a B.A of Veterinary medicine from the University of Mexico. Currently he plans to be able to continue his veterinarian career here in the United States.

---
Jewelry Artist Finds Perfect Fit
By Cassandra Nicholson
There's definitely a Southwest feel to a lot of Jeff Klein's jewelry, he notes, as he fingers a gem-laced necklace with a unique, twisted edge in his hand. "The primitive side is for me," he adds with a grin, indicating the bear claw at the end.
Klein, a jewelry artist and designer, has been working at First Fridays since they first opened. He started six years ago with just a few tables in "a dirt lot on Roosevelt," and now has his own studio in the Garfield Galleria.
The galleria serves as one of the popular hubs where people can view and purchase both Klein's work, as well as that of his fellow artists.
Having moved to Arizona in 1972 when he was four years old, he's gotten a chance to take the Southwestern design to heart with his craft. Once a year, he attends annual gem and mineral shows in Tempe.
And, Klein says, he sometimes gets the opportunity to have professional silversmiths visit his studio.
Klein, who also sells his jewelry at local boutiques around Phoenix and Scottsdale, says he enjoys First Fridays and the people who come to visit his gallery. And, of course, maintaining his muse is important.
"My inspiration is women and romance," he says with a chuckle.
---
A Family Affair
By Cassandra Nicholson

Having roped her sons into attending First Friday with her early last April, Joyce Barth is feeling a sense of accomplishment. One son is an accomplished artist, and another is a graphics designer (pictured below, left). And yet another, her youngest, is wheelchair-bound, with limited mobility to his hands.

Yet she was able to convince all three of them to contribute a work of art for the event.
"When I first started," Barth recalls, "I thought I would just sit back and people would just criticize my work."
It turns out that the entire endeavor has gone much farther than simply criticism by random passersby. And Barth is overjoyed by the result.
She's lived in Arizona for 25 years with her sons, but was raised in California. Since childhood, she's had an interest in art, and even went so far as getting a minor in the subject. However, for a long time she didn't pursue it.
It wasn't until her young son received brain damage, she says, when the art "came together."
"God came," she clarifies. "It was a spiritual thing."
It was just the catalyst to start Barth on an artistic journey that would lead her to First Fridays, where her son would arrange a studio for her during the event. The rest is artistic history.
"People would come in, analyze my work, and say what I'm thinking," Barth says. "They would say what I was thinking when I was working on that piece."
As amazed as Barth is, it merely cements what she believed about art deep down all along. She was able to get her graphics designer, computer whiz son to contribute a piece of art that she says is a bit "dark." And she helped her youngest son paint his own piece (pictured above, right), by positioning his hand above the paper and twirling it around for him until he was satisfied. His work was placed on the wall right in the center amongst his brothers' and his mom's art.
All of it, she believes, is worth it.
"I heard something on television the other day," she says. "A man said, 'All art is valid.' And that is so true."
---
Art, Dancers Unite for AIDS Awareness
By Cassandra Nicholson

A couple in their fifties sit ensconced in a plush red booth that blocks out the din of the younger generations surrounding them. The Paper Heart is not too packed, yet full of energy that reverberates from the walls outside.

Tonight seems to be open mic night as Marianne Dissard sings a jazzy, soulful tune that sounds like it belongs on the soundtrack of Pulp Fiction.
It's March 2, 2007. The Paper Heart is full of a variety of patrons. It's unique in comparison to the other galleries listed on the map for First Fridays.
For one thing, it also serves as a bar, a club, a restaurant, and – most notably – the location of an upcoming burlesque show with live entertainment.
"They fight every week to keep this place alive," burlesque alum, "Satan's Angel" remarks over her drink, just a table or so away from the stage.
Satan's Angel is one the main voices behind the AIDS Network of Arizona, ANA, an organization dedicated to promoting AIDS awareness amongst older adults and senior citizens.
Along with her young protégé, "Emerald Palace" (pictured with her, right), she's developed and promoted a special vaudeville and comedy show (which took place on April 18th) for her cause.
"Seventeen percent of the senior citizens here in Phoenix have AIDS and don't know it," she cites, acknowledging that those who have AIDS and are unaware most likely move on to younger partners, thus continuing the cycle.
Adding insult to injury, Satan's Angel can't help but feel that her other great passion has been neglected. "No one f---ing supports the arts," she says.
She's been in the burlesque business since 1961, and has traveled all over the world, so it's no wonder that Satan's Angel knows how to put on a show.
Her larger-than-life personality and her blunt sense of humor lends itself to an ability to get things done on a larger scale as well.
"I'm not just another pretty face," she says on her website, "I have a plethora of stories I would love to share."
---
ArtLink Security
All volunteers have a place in First Fridays festivities
By Cassandra Nicholson

Though the volunteers aren't artists, it should be noted that First Fridays wouldn't go off without a hitch if it wasn't for the many men and women who dedicate their lives to promoting, managing and securing the event ever month. Security officer Gail Shell has been working First Fridays at the Phoenix Public Library for three years, back when there were only 10 or 11 galleries available for touring.
Shell works at the library during the week, and stays until the event is over, and the last people leave the library for the evening. So far, under her tenure, they haven't had any serious incidents.
The night is still young, and during every First Friday event, Shell looks forward to more attendees. One of her jobs is to count how many people attend the Phoenix Public Library's gallery, which is right next to the foyer. It also serves as the first stop for those who wish to take the shuttles around Downtown Phoenix.
"Sometimes we have live entertainment in front of the drop box," she says, adding that the entertainment isn't hired and is based on volunteers only.
The key to First Fridays is the volunteer basis upon which every aspect stands. Just as Shell takes every first Friday of the month to stand guard at her post, there are volunteers who help with the free refreshments, passing out maps and working as liaisons between ArtLink and the participating artists.
The fact that the only sales are between potential buyers and artists helps maintain the monthly tour's artistic atmosphere, without hindering the artists from making a living. It's just another reason why First Fridays remains free to the public, and available for those who want to join in whenever they can.
---
Beyond the Downtown Phoenix Art Scene...
The Tempe Arts Festival